With a (free) FRED account, you will be able to:
Create your own economic data dashboards.
Save customized FRED graphs and GeoFRED maps for sharing and future use.
Create and store data lists of economic data series. Data lists can be used to download series cross-tabulated by date or to save links to series pages.
Subscribe to email notifications for updates to publications and data series.
Access the FRED API to integrate FRED data with your favorite software packages.
Play our economic indicator forecasting game, FREDcast.
Add series to your "Favorites List" for easy access to the data you use the most.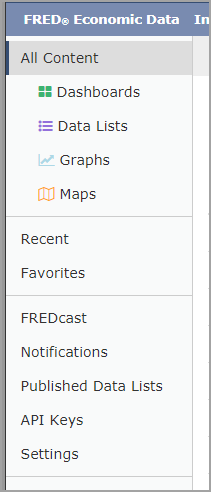 To create a free user account:
Complete the registration form. The form will appear shortly after you navigate to the page.
Your account will be activated immediately after submitting the form. You will then be able to save and create St. Louis Fed Research content.
Your privacy is important to us. For a user account, we require only a valid email address and password of your choice. Please read our privacy notice and policy to learn more.